Welcome to the Tasogare Otome × Amnesia Wiki
This Wiki covers the manga series Tasogare Otome × Amnesia.

What is Tasogare Otome × Amnesia?

Tasogare Otome × Amnesia is a manga series written and illustrated by Maybe. The story revolves around a school that underwent severe construction changes over several years, eventually developing strange horror stories as time passed.

The series focuses on Teiichi Niiya, a freshman on Seikyou Academy's middle school campus. As he wanders around parts of the school very few have stumbled upon, he discovers the spirit of a girl named Yuuko. She turns out to be the soul of a girl who died inside the school's premises, and she lost all of her memories, including those of her final moments.

As Teiichi decides to help her piece together Yuuko's life inside the school, he sheds some light on the truths behind mysterious occurences on the campus.
Latest Chapter:
#31: Curse, Part 2
Saddened by the realization that Teiichi is no longer in her reach, Yuuko takes a walk down Memory Lane to immerse herself in her blissful memories with Teiichi. Afterwards, she slowly returns to her habit of watching over the school like in the days before Teiichi met her for the first time.

However, a completely unrelated encounter drags her back to the dilemma of returning to the past or sorting out her feelings for Teiichi.

Meanwhile, Teiichi would meet Kirie's grandmother for the first time, causing intense emotions to soar between Yuuko and Kirie.

Read more about this chapter here.
Status
This wiki currently has 82 articles since July 31, 2011.
On Paranormal Focus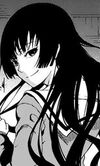 Yuuko Kanoe is the infamous "Ghost of the Old School Building" who haunts Seikyou Academy. Due to unknown circumstances, she has no memories of the events that lead to her death, and she does not have any lingering attachments which commonly cause ghosts to stay on the living world

She was discovered by accident by Teiichi Niiya, a middle-school freshman in Seikyou Academy, and she is currently cooperating with him in tracking down information regarding her death as the "absentee president" of the school's informally-established Paranormal Investigation Club.